Energia II-Buran T Heavy Reusable Launch System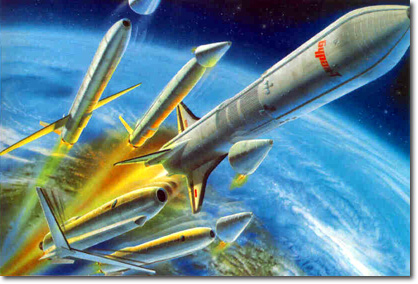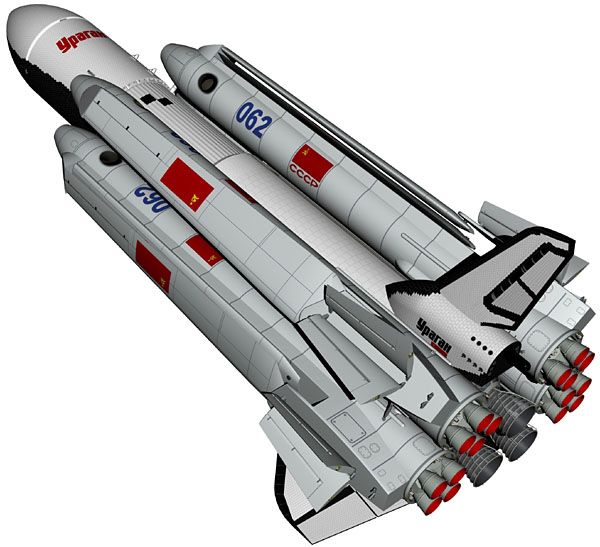 Energia II, named Uragan (Russian: Ураган, Hurricane), was a rocket planned to be fully reusable and would have been able to land on a conventional airfield. Unlike the Energia, which was planned to be semi-reusable (like that of the U.S. Space Shuttle), the Uragan design would have allowed the complete recovery of all Buran/Energia elements, like that of the original totally reusable Orbiter/Booster concept of the U.S. Shuttle. The Energia II core as proposed would be capable of re-entering and gliding to a landing, presumably using technology developed for the Buran.
In 2014 a wave of optimism was sweeping through Russia. Bold administrative changes and a growing economy opened many doors that closed in 1991. RKK Energia proposed an updated version of the Energia-II/Uragan, a totally reusable superheavy booster that would be unique in the world, a national pride and great scientific acheivement. Late in the summer suddenly facilities for the Energia rocket that lay rusting for 20 years where overran by construction workers to refit them. The rumors where abundant and when Energia finally broke the secret and announced the project, the crowd of journalists and ethnusiasts burst into an ovation and spontaneous signing of the Russian national anthem. President Putin later visited Energia and commented that the time was now right to revive Buran/Energia.
Energia RKK is investing considerable sums of money into it's eponymous rocket. Lots of "de-retiring" has to be done, and the original Energia rocket has only flown twice. It is of the opinion that merely bringing back the old Energia would not do at all from an economic viewpoint, hence it's concentration of efforts into the "Energia-2" or Buran-T design. It is also an occasion to use Buran components and technology, to salvage what is considered a great spacecraft with a sad story, a subject of national shame. The Energia II is a multiple part system; it consists of the Buran-T orbiter and the "Volga" flyback boosters. At booster burnout they detach and fly away, unfolding their wings to land at designated airfields while the unmanned Buran-T orbiter/core stage carries on to reach orbital speed.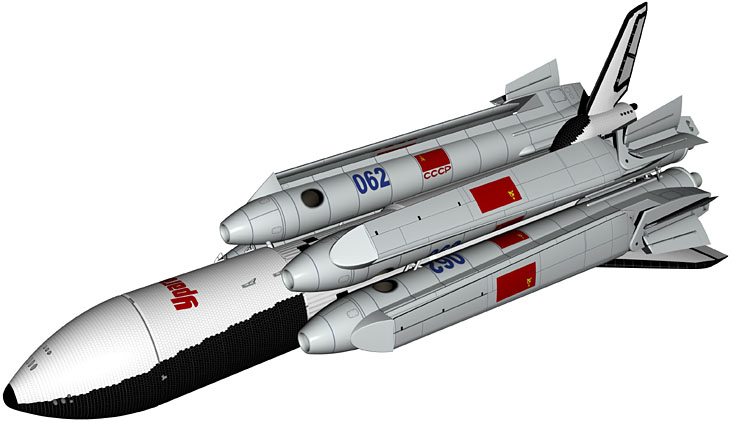 The Buran-T is a hybrid, part Buran space shuttle, part Energia rocket. It is an unmanned, one hundred meter long behemoth. It's nose can fold back in four 'petals' to expose up to one hundred and ten tons of cargo in a cavernous bay. It is fitted with the same type of heat shield as the Buran, tiles made of a superfine fibre of silicon oxides; in fact the Buran-T has a 65% parts commonality with the original Buran orbiters. It is powered by the same monstrous RD-170 core engine, Orbital manoevering systen and uses an Su-35 engine for landing power. The re-entry is at a shallow angle and uses dynamic soaring to shed off excess speed, using GPS to align precisely onto the designated airfield. The landing gear assembly is of incredible strength and uses technology from the An-225. It's landing is indeed hairy at a speed of 380 km/h, the giant spaceplane/rocket having very little aerodynamic lift but thankfully the Buran-T is appreciably lighter after being rid of it's 820,000kg of fuel and 125,000kg of payload, having an empty weight of 95,000kg, slightly lighter than the Buran. It still uses two forward-facing solid-fuel rockets and three massive drag chutes to brake it's speed to an appreciable degree.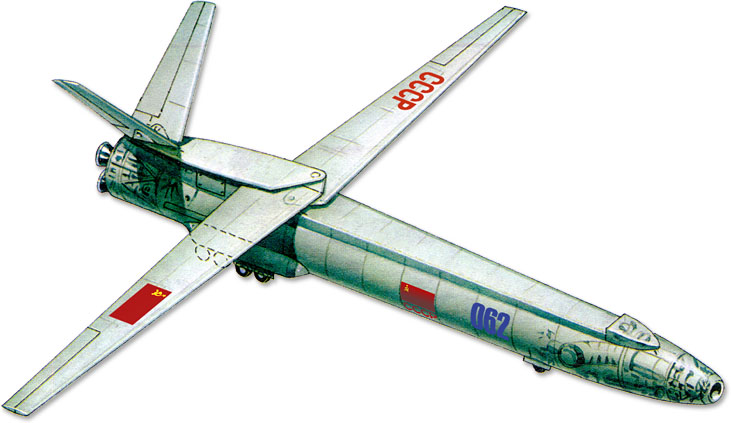 The Volga boosters are relatives of the much used Zenit rocket. They share the same liquid-fuel rocket engine, however here similarities end. They are fitted with complete airframe with aerodynamic controls, forward-folding wings and a landing gear. They only attain sub-orbital speed, so no extensive heat shielding is required. The landing is much less exciting than the Buran-T's, the only thing worthy of excitement is the fact that there are four to land.
The Buran-T orbiter is expected to be able to fly 50 missions in it's service lifetime and the Volga boosters are able to fly 100 times; however this will increased as time goes on and the design's durability is improved. Turn-around time for the Buran-T is six weeks, less than two for the Volga. Refits cost half the price of a new rocket but however do completely restore the service life.
Electronically the system is still more advanced than the already advanced Buran computer systems; being no less than quintiply redudant, a first in the world. Two work simultaneously, two are on 'active standby' ready to take over if a fault is detected while the failed system is reset; and one is in a clean state able to break the system out of a looping problem that occurs in all four systems. An approximate 500 Megabytes of Prol-3 programming language forms the on-board guidance software.
The Energia II system promises to open new markets in space exploitation, permitting the launch of superheavy satellites, probes, space stations and construction materials into a 200 to 500km orbit. Ten flights are able to be launched every year, and it has been proposed to construct Energia facilities in Kourou to raise this number.
Some options are available for more versions. The Energia 2-K is a configuration using only two boosters for a payload capacity of 70 tons. Energia 2-H (Herkules) is a configuration that uses six, or eight (Energia-2H8) Zenith strap-on boosters, for a capacity of 160 and 200 tons respectively. The system is then modular and lends itself to adaptation to payload requirements. The Energia 2H has also the capacity to perform a Trans-Lunar Insertion, releasing a cargo module fitted with a Block-DM for orbital insertion while the plane continues. The re-entry profile is much shallower and uses dynamic soaring intensely to dispell excess gravity, unbound by the tolerances of a human crew. The Energia-II is then also a useful tool for lunar exploration.
The Energia-II/Buran-T Complex brings forth new undreamed of possibilities, offering the possibility to put 3, 5 or 7 times the Payload of a Proton rocket. Now exists the possibility to put
entire spacestations
into Orbit at once, or send a multi-ton payload to Mars, opening the way for the next step in human space exploration, formely constrained by lifting power of rockets and concerns about reusability and cost-effectiveness preventing larger rockets. The space industries of Russia have once again show their valor.
Characteristics at Liftoff
Gross mass: 2,765,200 kg
Height: 110.00 m
Diameter: 9m
Thrust: 35,129.90 kN
Performance
Energia-II Delta-V: 9,540 m/s to 12,800 m/s (gravitational and air drag eats up approx. 2000 m/s of Delta-V)
Buran-T Delta-V: 850 m/s
Payload to LEO: 110,000 kg (Energia-2K: 70,000kg, Energia-2H: 175,500kg, Energia-2H8: 233,000kg)
Payload to GSO: 52,000 kg (Energia-2K: 34,000kg, Energia-2H: 89,750kg, Energia-2H8: 121,500kg)
Payload to TLI (Energia-2 Herkules Only): 40,000kg (Energia-2H8: 70,000kg)
Mass of a Block DM: 17,750kg (for insertion of cargo into LOI)
Apogee: 200-500 km
Lifetime and Reusability
6 week turn-around period for Buran-T
2 week for boosters
Buran-T Time Between Refits: 50 flights (5 refits maximum)
Volga TBR: 100 flights (5 refits maximum)
Cost: Oh Lord, you really want to know???
Timeline
2015-2016: Redesign
2017-2018: Buran-T final design, Ground Testing, First Test Flights of boosters (2017)
2019-2020: First full test flights and production line opening
2021: Available for commercial flights
2022: Energia-2K available
2024: Energia-2H available